Pharmasset, Inc. is a clinical-stage pharmaceutical company focused on discovering, developing, and commercializing novel drugs to treat viral infections. Specifically Pharmasset focuses on the development and the treatment of chronic hepatitis C virus (HCV) infection. Pharmasset has three clinical-stage product candidates. It also has a series of preclinical candidates in preparation for clinical development. The three clinical product candidates include RG7128, PSI-7977 and PSI-938. Each of these candidates will not be approved because.
RG7128 - is being developed by Pharmasset and Roche www.pharmasset.com/pipeline/rg7128.aspx which is a complete underhanded tactic by Roche to squeeze Pharmasset out of the game because their recent purchase of Anadys Pharmaceuticals seekingalpha.com/news-article/2026824-sector-snap-hepatitis-c-drug-developers-rise has not only created greater competition in the exact same specific drug class as RG7128, but has given Roche a reason to move sluggish on the development with Pharmasset when they just purchased and are producing a drug with a competitor.

PSI-7977 - is a drug that treats infection after HCV has tore your insides up www.pharmasset.com/pipeline/psi_7851.aspx because Pharmasset's other drugs, both in production and in trial, haven't worked. Then regret to inform you that PSI-7977 has only stayed in production is because its easily produced and remained at low cost, which infers that it will not pass FDA approval, but still remains "good on the books" to the board.

PSI -938 - is just another PSI-7977 www.pharmasset.com/pipeline/psi_938_psi_879.aspx used to treat a patient after other Pharmasset drugs designed to prevent have failed. Phase 1 trial of this drug went awfully in vitro and destroyed key elements of the liver and although there are prospects here we are too far gone for anything to help the stock capitalize in the near future (12-18months)
Aside from the fact that Pharmasset has had the lowest relative performance in the biotech industry
www.fnno.com/story/fast-lane/331-pharmasset-had-lowest-relative-performance-biotechnology-industry-vrus-regn-cbst-bmrn-opk-fast-lane
it is important to note that not only has Rouche taken a significant market share away from them, but that on a pure technical basis VRUS is due for a move below the areas it has bounced off of the last few months, 63 being the key area of interest.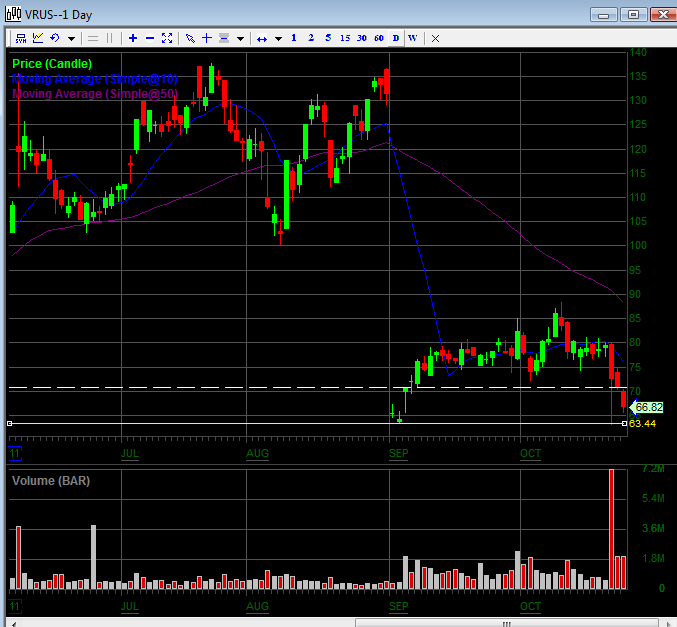 Huge gap down from terrible earnings, then we get a technical bounce and now, which is what you want to pay attention to, the stock has touched back to the exact same place where it had the huge gap down from 63. Not once, not twice, but 3 times. One of these times it is going to break through and go towards 50, which is my initial price target on selling half of your shares, 63 (sell half), 50 (sell rest)
Recommendation
: Short this stock based off of all the evidence I've brought forth to you today and hold it until we get a break below 63, where you can choose to trade how you feel.
I will work on getting you into a winning trade, its up to you to manage it.